Latest News
20th Anniversary Celebration
Dear Past & Present Players, friends and family, Please join us in celebrating the 20th anniversary of the Adelaide Comets FC.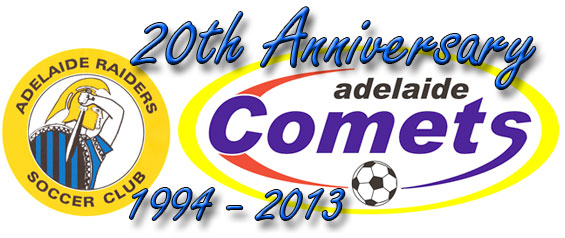 When
Saturday 27th July 2013
7.00 pm until midnight
Where
Sicilia Social & Sports Club
45a O.G. Road, Klemzig
Tickets
Adults - $50 per ticket (includes booking fee)
Children (5 - 13 years) - $20 per ticket (includes booking fee)
Children under 5 free
Tickets are available online ONLY at stickytickets

Tickets / Register Now

Includes food, music, entertainment & more!
Beverages available for purchase on the night
Raffles ~ Entertainment ~ Licensed Bar
West Bromwich Albion Training Camp
July 15th to July 17th, 2013, Ellis Park
Melvyn Wilkes, current UEFA A License coach and former professional player with Manchester City has been involved in junior football in the UK for over a decade.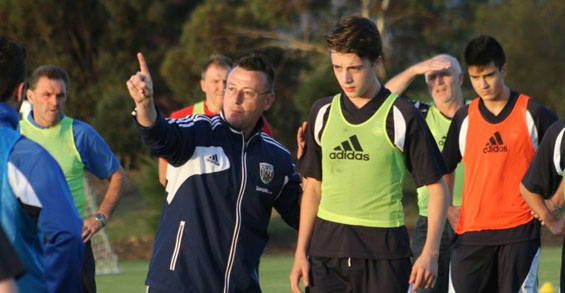 Melvyn is currently working at EPL Club West Bromwich Albion identifying and developing talented youngsters for the WBA School of Excellence.
The West Bromwich Albion Team of Coaches lead by Melvyn will be conducting a 3 day training camp, with 9 hours of professional coaching, Adidas training shirt and Adidas ball. The camps are aimed at players aged 7 to 18 conducted in a professional environment with ongoing monitoring of talented players in a long term relationship with the Adelaide Comets.
When
Monday 15th July to Wednesday 17th July, 2013
U7 to U12 - 10.00am to 1.00pm
U13 to U18 - 2.00pm to 5.00pm
Where
Ellis Park, West Terrace, ADELAIDE
Cost
$260.00, Limited vacancies
Download the FLYER, and download the APPLICATION FORM. Be Quick!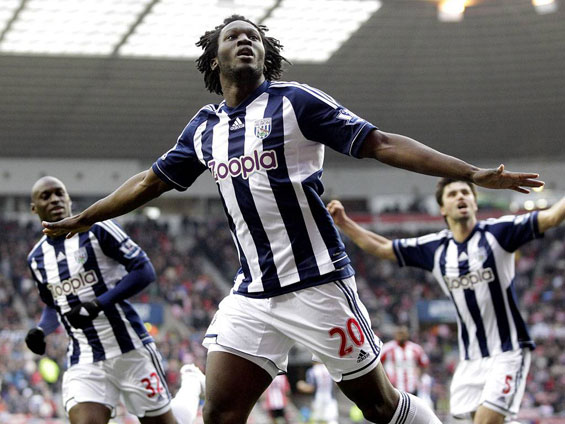 Junior Coach Required - U9
Adelaide Comets is seeking expressions of interest from coaches that would like to join our junior program for the 2013 season as an U9 team coach.
As a coach you will be fully supported by the director of coaching and coaching coordinators. You will also be offered an attractive remuneration package to complement your skill and enthusiasm for junior development.
If you are interested in please fill out this form and forward to juniors@adelaidecomets.com.au

Junior Players Required
We currently have vacancies in the following squads:
U11 Girls
U8 Boys (or girls)
U16 Boys
U17 Boys
If you are interested email us at juniors@adelaidecomets.com.au
2013 Season Launch Dinner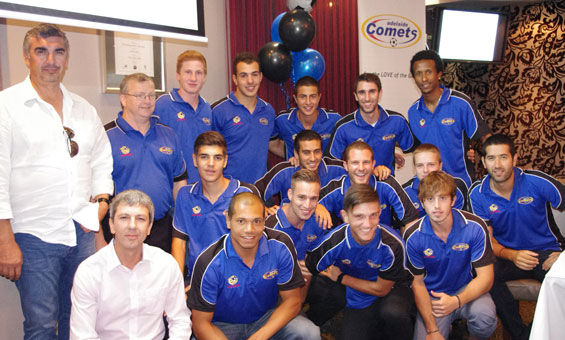 More photos here
Comets Womens Training
We are seeking players for our open-age women's team participating in Division 2 for season 2013. We cater for players of all levels and are looking towards the future with some exciting young players progressing through from our junior squads. Whether you are an experienced player looking for a change or a young up-and-comer looking for an opportunity we hope you are able to come down to our first training session to be held late January 2013.

Coach: Arthur Fotopoulos

Pre-Season Starts: Wednesday 30th January 2013 at 6.30pm
Ground: Park 19, Greenhill Rd between Unley Rd and Hutt Rd

All enquiries should be directed to:
Teresa Hatzigeorgiou, Secretary via email secretary@adelaidecomets.com.au
Comets Mens Amateurs Training
Adelaide Comets Amateurs competing in the Saturday 1st Division will be starting their pre-season training on Tuesday 29th of January at SAWSA Park, corner of Greenhill Rd and King William Rd. Training will begin at 6.30pm.
Subscribe to our Email Newsletters
We have a new email subscription service where you can selectively subscribe for Comets Seniors news, Juniors news, 7-a-side news or to the Score Service where you can receive the scores and goal scorers from Comets games.

Click on the image to subscribe.