Adelaide Comets FC is pleased to announce the appointment of George Agalidis as Head Coach of the Adelaide Comets Collegiate team for the 2018 season.
George brings a wealth of experience to the role following an extensive playing career in South Australia, totalling 212 games.
George commenced his senior career with Western Strikers, where he won the club's Player of the Year award in 2002 and represented the SA School Boys in 2003, before joining Enfield City Falcons in the Premier League (NPL) in 2005.
George joined Adelaide Comets in 2007 where he played an integral part in the State League winning side which delivered the club its first piece of silverware since joining the FFSA. George went on to Captain the club in 2009 where it made the Top 5 Finals Series.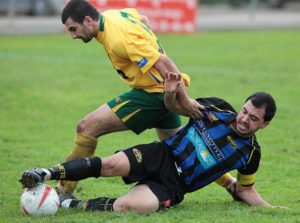 Following his time at Adelaide Comets, George had a brief stint at Adelaide Olympic, before joining Port Adelaide Pirates in 2012, where he was named runner-up in the State League's Bob Telfer Medal. George finished his playing career with Pirates in 2015 after winning the State League and gaining automatic promotion to the NPL.
The Collegiate League appointment will be George's first full-time coaching role, following 5 years of coaching experience with Adelaide High School and an assistant coaching position with Port Adelaide Pirates during their 2015 playoff series.
"I was very surprised to hear from Theo and I caught up with Theo and Jim a couple of days later. I made my mind up pretty quickly that I wanted to accept this role," George said.
"Comets is a club that I have very fond memories of from my playing days. It has had tremendous growth and success in its short lifespan and it has proven to be one of the most progressive clubs in the FFSA, consolidating its position in the NPL.
"I see my role with the Collegiate team as being able to foster the development of the young players and keep them on the NPL shopfront window, developing them for potential opportunities with the Comets' Federation teams, while integrating them into Men's Football with new and existing senior players."