Honours
U12 FFSA JPL League Champions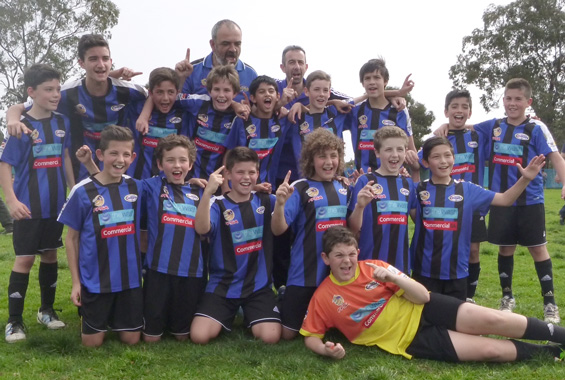 Active Club Grant for Training Coaches
We are pleased to announced that we have been awarded an Active Club Grant to the value of $3,080 for the purposes of training our coaching staff. The photo below shows our Grants Officer Michael Malavazos receiving the cheque from Rachel Sanderson MP. Adelaide Comets are extremely grateful to the Active Club Program for its support.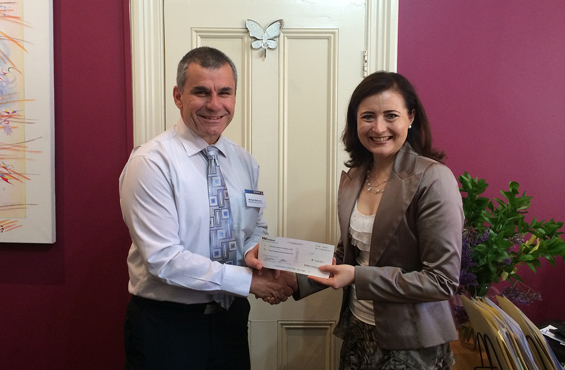 Kanga Cup 2013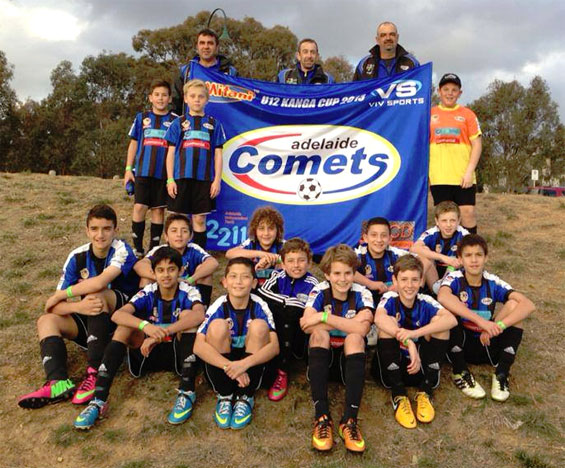 Report from Coach John Falidis:
What started as a brief chat over a coffee in January with my Team Manager George about the 'Kanga Cup' which I had heard of but knew nothing about, eventuated into one of the greatest experiences 14 kids and 22 other parents, friends, brothers and sisters will have in their lifetime.
For the players themselves the experience of being together for 7 days, training, playing and the challenges that were put in front of them they will not forget, and more importantly all done in a Comets shirt !
See the FULL report here.
West Bromwich Albion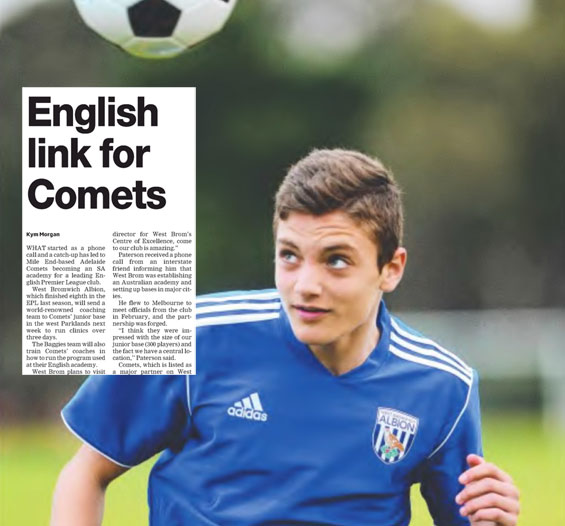 Click the above image to read the article that appeared in The Messenger and in The Advertiser during the week.
2013 Teams
Seniors Coach – Jim Karatzas
Seniors Assistant – Coach Con Antoniou
Seniors Keeper Coach – Rob Samson
Seniors Team Manager – Homer Aslanidis
Seniors Trainer – Donald McCurry
Seniors Trainer – Maria Marciano
Reserves Coach – Doug Paterson
Reserves Team Manager – Rob Samson
U18 Coach – Jim Keramidas
U18 Team Manager – Mike Kontis
U18 Gear Steward – Fernando Camacho
Amateurs A Coach – John Politis
Amateurs A Assistant Coach – Roy Selinas
Amateurs B Coach – Tony Galanopoulos
Amateurs C Coach – George Stagakis
Womens Coach – Arthur Fotopoulos
Juniors Technical Director – Doug Paterson
Coaching Coordinator – U6/U7/U8 Theo Tsounis
Coaching Coordinator – U9/U10/U11 Kosta Papagiannopoulos
Coaching Coordinator – JPL/JSL Tony Savvoudis
Under 6 Boys – John Politis
Under 7 Boys – Paul Kapetas
Under 8 Boys – Horacio Cisternas Arteaga
Under 9 Boys – Peter Constantopoulos
Under 9 Boys – Matthew Kladouris
Under 9 Boys – Kosta Papagiannopoulos
Under 10 Boys – George Nikolaidis
Under 10 Boys – Kosta Kokkonis
Under 10 Boys – Peter Ikonomopoulos
Under 11 Boys – Bill Stefanopoulos
Under 11 Boys – Chris Ikonomopoulos
Under 11 Boys – Kosta Georgiou
Under 12 Boys – John Falidis
Under 13 Boys – Will Plush
Under 13 Boys – Jacob Apech
Under 14 Boys – Tony Galanopoulos
Under 14 Boys – Andres Cortes
Under 15 Boys – Dimitri Panagis
Under 15 Boys – Ken Yang
Under 16 Boys – Daniel Potts
Under 17 Boys – Kon Antoniou
Goal Keeping Coach – Jose Louis Ortiz, Rick Borgas
U11 Girls – Anna Cakouros
U13 Girls – Jim Tsialafos
2013 Main Committee
Jim Tsouvalas – President
Teresa Hatzigeorgiou – Secretary
Bill Kapetanos – Treasurer
Angelo Hiotis – Sponsorship Coordinator
Nick Panayiaris – Juniors Delegate
Bill Koliopoulos – Facility Manager
Peter Aslanidis – Football Operations
John Katsabis – Amateurs Delegate
Kath Bayley – Administration & Registrations
Stan Kalimnios
Michael Malavazos
Crist Gardiakos
Bill Stefanopoulos
Brian Warner
Jim Keramidas