Last night, we formally 'broke ground' at Ellis Park.
Adelaide Comets members, sponsors, players and officials were joined by the Treasurer for South Australia, the Honourable Tom Koutsantonis and the Lord Mayor of Adelaide, the Honourable Martin Haese, for a formal ceremony to mark the beginning of our exciting developments.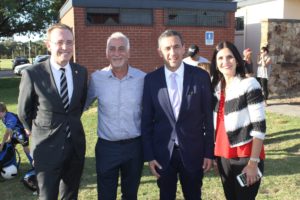 I am excited to share that we also received formal confirmation yesterday that we are able to begin the works at Ellis Park as soon as next week! If all goes to plan, we should have our new club rooms by Christmas.
I wish to thank the following people who have helped to make this fantastic project possible: The Right Honourable Lord Mayor of Adelaide, Martin Haese, Councillors and Administration staff for support and guidance, the Treasurer of South Australia, the Honourable Tom Koutsantonis, the Football Federation of South Australia and volunteers from Adelaide Comets FC and Western Districts Athletics.
It truly is a remarkable time for our Club and we can't wait for development to begin on our new home!
Jim