Adelaide Comets Academy product, Nathan Dimou, flies out for opportunity of a life time.
Nathan Dimou, product of the Adelaide Comets Football Academy has been offered the opportunity of a life time with an invitation to trial at one of the biggest football clubs in the world, Manchester City.
Dimou, who first joined Adelaide Comets in 2014, began as part of the Club's Skill Acquisition Program squad playing in the Under 14 competition and later became a member of the inaugural Adelaide Comets Football Academy Program.
In October 2017, Nathan travelled with the Adelaide Comets Football Academy to England to play games against clubs such as Ipswich Town, Chesterfield, Doncaster Rovers and Derby County and tells that it was fantastic to be involved with the England tour.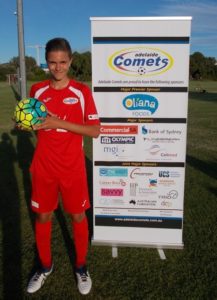 "The tour was an amazing experience" he said.
"Playing against fulltime academy players at professional clubs was something I never thought I'd the get opportunity to do. Not only that, watching English Premier League, Champions League and Europa League games was like a dream come true."
Comets Football Director, Doug Paterson, initiated the Club Academy and says it is something special.
"The program is one of a kind in our state," he told.
"Players are identified within the club and it is for internal players only that demonstrate the abilities to play at a high level.  The club invests heavily in the program and unlike private Academies, players do not pay for the program.  As a club the investment in this area is paramount to our long term sustainability at a National Premier League level.
"Nathan is a special talent, not only with his ability, but his attitude is fantastic.  He has a solid support network in his parents Don and Vicky, mentors such as Eddie Briscoe and Darren Fletcher and of course the Comets Family.
"I believe he will go a long way in the game, but at this point in time he needs to enjoy the experience; it my only last a few weeks, it may last 10 years but he has to enjoy it."
Nathans father Don, a longtime lover of the game stated that the Academy tour was impactful.
"Going to England with Eddie Briscoe and Dougie Paterson was a dream come true for me, let alone Nathan," he laughed.
"The guys gave the travelling party a feast of football for 13 days straight, it was phenomenal who they know in the game there and they made the tour more than what we ever anticipated.
"To think now we will be leaving on Sunday to go back and pursue Nathans dream is just unbelievable; I need to pinch myself."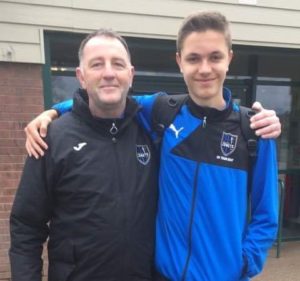 Nathans schedule will hit the ground running from the minute he arrives with several other clubs looking out for the giant stopper.
"It's hard to believe this time next week I'll be training at an EPL club," said Dimou.
"I've been really lucky to of been given this opportunity by Eddie, Doug and Darren, and of course the Adelaide Comets who have looked after me from the minute I arrived.
"I love the club and I really want to do well for everyone who has helped me get to this stage."
Adelaide Comets would like to wish Nathan and his family a safe and successful trip, we will be sure to keep an eye on his progress and look to develop the next talent to follow in Nathans footsteps.
For further information regarding the Adelaide Comets Academy or England Tour 2018, please contact Doug Paterson –dof@adelaidecomets.com.au